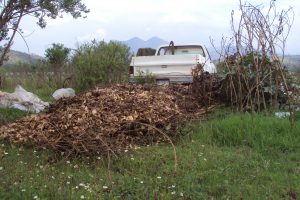 In my last blog I wrote about DIY easy composting methods, now I will be discussing on how to make improved compost for your vegetable gardens, which is basically the same process, but done in a more systematic way, plus adding some new materials so you can get even more benefits from your organic agriculture, by means of improving the quality of your compost.
Just as a reminder from my last blog I will add a list of:
Tools you will need
Shovel
Hay fork
Bucket
Rack
Wheel barrow (optional)
Leather gloves
Goggles
Nose and mouth filter
Work or rubber boots
Comfortable work clothing
Two bins or two sheets of used or new plastic -size depending upon the volume of compost to be made
And now:
List of materials
Grass clippings, fallen leaves, twigs, young weeds, shells (peanuts, pecans, walnuts, …)
Refuse vegetables scraps plus others like overripe, leftovers, discarded parts (peels, skins, seeds, coffee grinds or tea bags, leaves, roots, stems, wilted flowers, …)
Dung from domestic animals (any, except from dogs and cats)
Charcoal
Molasses
Yeast
Expired milk and/or yogurt
Soil, the darker the better -darker means richer in organic matter, especially soil from under trees or bushes.
Wood ashes
Easy technical information
Over time, adding good-quality improved compost to your vegetables garden, loan or field provides nutrients in just the natural balance needed, which is released slowly for plants to use. It enriches soil health and enhances the soil food web by means of the diversity of beneficial organisms that break down organic matter. Builds up soil structure by preventing erosion through the creation of soil aggregates -bigger soil particles. Improves water infiltration and retention rates avoiding flooding through better drainage, i.e. creates more water-holding ability in soil, which means less watering -longer periods between watering and less water volume needed as well. Compost also acts as a buffer to toxins from foreign materials. Not to mention, it is free plant food provided (not bought) by yourself. With very little effort, just about anything can contribute to a mineral and microbe rich compost: fruit and vegetable scraps and leftovers, grass clippings, dried leaves, tea bags, coffee grounds and filters, eggshells, seafood shells (ground if possible), molasses, whey, expired milk or yogurt, charcoal, straw and even dog hair, wood scraps and sawdust. Time is the only other ingredient you will need.
Composting is quite easy, but there are several options available, you will have to consider a few factors. You will want to pick a method based on your needs, your availability of materials and the space available. But you do not need to worry about filling up the composter you choose, be it a bin or just above a plastic sheet on the bare ground. Because organic matter is constantly breaking down and reducing in volume and as you are harvesting the finished compost, you will most likely never fill the entire bin or pile. If you are a non patient enough person or need compost as soon as possible, then you will need to choose a method that allows you to hot-compost, i.e. pile instead of a bin. Perhaps the most important decision is considering how much time you are willing to invest. Once you choose the method that fits best for you and create the right conditions, you can let nature do the hard work of breaking down your organic matter and turning it into great improved compost for your vegetables garden, loan or field.
Bin composting
You can build a plywood, scrap or refuse wood bin about 4 ft square and about 3 to 4 ft tall with an open bottom in the front. Make a simple wooden lid that just sits on top or a piece of black used plastic. Plastic from garbage bags is OK, but put some boards or even rocks or bricks on top of it to prevent it from being blown away. Then make the front of it slightly smaller allowing a dispensing slot along the bottom front that's about 4″ tall by the width of your bin. This allows you to simply scoop up the finished compost with a flat shovel or a rack. You will have great compost in about 6 months to one year, depending on your weather conditions. The warmer weather the faster composting. If you are fortunate enough to live at or near enough to the beach, you can add plenty of seaweed/kelp as green material and you will be amazed how quickly that material breaks down.
Alternative "bin"
One great method and a very cheap one, that I want to mention is the following. You can put all the materials: leaves, grass clippings, weeds, pruned (thin) branches (cut no less than 4-5 inches long), kitchen scraps, etc. in one large black garbage bag, spray it lightly with a garden hose or a bucket, just enough to moisten the dry materials, then tie the whole package tight and place it in a sunny corner in your back yard or field and let the sun decompose the entire contents. Shake it or roll it carefully once a day for the first two weeks in order to homogenize the mixture and loosen it to allow for ventilation. The heat that is generated inside the bag will destroy any seeds, insects, pathogens, etc. and you will have compost in a shorter time.
You may have stuffed the bag to the top, but once the materials are decomposed (broken down) what ends up is rather a small amount, so it is better if you can fill several bags. It is very important not to put too much water inside to prevent rotting instead of fermenting (I will discuss the "fist test" further down). As long as you have grasses, weeds, flowers, food scraps and leftovers incorporated in the mix, you should have enough moisture where extra water is probably not necessary. If you have mostly dry leaves, sawdust, wood scraps and dung they will of course need more moisture. Just tie up the bag and let the sun do the work. Any odor will quickly dissipate once your composted material is broken down. Note: if the bags are filled with mostly dry leaves, sawdust or wood scraps, they will decompose at a slower rate.
Commercial bins are usually made from black or dark colored recycled plastic -HDPE, LDPE or PS- and can come in different sizes and shapes -from square to cylindrical. All of them have a lid to cover the container. These bins are good for cold-composting and a good option for urban or suburban locations. Cold composting means the highest temperatures do not rise so much as they do in hot-composting, where those temperatures rise up to 60 to 70° Celsius (140 to 158° Fahrenheit). However, you must note that they present a few difficulties. You will not be able to use them for hot-composting, for example, because being a closed bin makes it difficult to maintain the necessary conditions for a high temperature compost. Additionally, the containers can only hold a limited volume of composting materials.
Extracting compost from a closed bin can be a challenge because the openings are usually only about one foot above ground level. If you want to make the job easier, you can move the entire unit to a different spot. These kinds of bins usually do not have a bottom to them, therefore the compost materials will just drop out when the bin is lifted. Fork back into the bin everything that is at the top of the compost pile at the new bin location and harvest all the decomposed (broken down) materials at the bottom. The average price for typical closed bins runs between $50 and $250 US Dlls. Although, some local authorities in different Countries sometimes offer bins to residents at a subsidized cost.
Compost piles
If you have an amount of materials for composting big enough that it does not fit in one or several bins, you may optionally use one or more square plastic sheets. My recommendation is to use 6 x 6 ft, or 8 x 8 ft since they are the best sizes in order to have easy ways to work them out. You may disregard the plastic sheets and set up your compost pile directly on the ground.
Procedure is as follows:
Level the ground where you will do the composting, considering a working area around for easy moving while working
Extend the plastic sheet or sheets on the ground (if you are using one)
Using stakes, a string and a measuring tape, make a draft or a square which will set the limits for your pile
Fill out the whole square area with small branches, sticks and twigs a couple of inches thick for ventilation
Add some water to moisturize without soaking
Add a 4-inch layer of dead leaves or grass clippings or a mixture of them
Add more water to keep moisturizing the layer, especially dry leaves being careful not to soak it
Add one more 4-inch layer of fruits and vegetables scraps, refuse, leftovers, coffee grounds, tea bags, peels…
Add the next 4-inch layer of cows, sheep, goats, rabbits, poultry, horses… dung (if you have access to it)
Add more water if needed, depending on the moisture content of the dung you are using, if any. Remember: do not soak it
Add a 2-inch layer of soil that you can get from the ground around or near the pile
Add water as needed to moisturize it without soaking
Repeat the process beginning with a new 4-inch layer of dry leaves and or grass clippings. You can repeat the process several times until the pile reaches a height of 4 to 5 feet
Cover the pile with plastic (e.g. used plastic bags, sacks or else) or with a final 4-inch layer of grass clippings and or dry leaves
Moisturize this final layer but remember not to soak it
If you still have some more materials you should start a new compost pile next to the first one, leaving a distance of 4 feet in between them for easy working around the piles.
Notes:
Optionally you can add some 5% whey to the water or 2-3% of outdated milk or yogurt plus 3-5% of sugar or molasses to increase and speed up the fermenting process and the amount of beneficial lacto bacillus (milk bacteria)
If you add sugar or molasses to the water you should also add one ounce of bakers yeast to 5 gal of water/sugar-molasses mixture
You can also add cinder from your firewood to the dry leaves/grass clippings layers -the amount is optional, depending on availability
For the first two weeks, thoroughly turn the pile with a pitchfork and or shovel by moving it to a place next to it on a daily basis to prevent temperature from rising up to or beyond 70° Celcius or 158° Fahrenheit.
Before turning, make another square of small branches, twigs and sticks to provide ventilation from under the pile
Try to keep the cubic shape by drafting another square with the same measurements as the first one (optional)
You should not have to water anymore, unless the pile gets too dry, since additional waterings may delay the fermenting process, therefore lengthening the whole composting process.
After 4 to 8 months (or even one year) you will get prime quality compost, depending on the weather conditions at your location.
Pit composting
You can dig a pit or a trench for composting in any place where you are planning to plant a tree, they are dug to bury your waste. You just keep adding your kitchen scraps, vegetables refuse, ashes from the fireplace, dung from domestic animals, milk and yogurt leftovers, sawdust, wood shavings, dry leaves, grass clippings, tea bags, coffee grounds, … Every time you add any organic materials you have to add some soil from the ground that was lifted while digging. The aim of this is to bury your composting materials with a thin layer of ground to prevent bad odors as well as undesired insects and rodents. Additionally, the ground enriches the compost with beneficial organisms that help speed the decomposing or break down process. Once the pit or trench is filled, you just forget about it, while the organic materials gradually break down over a period of six months to a year, depending on your location and weather conditions. This method is effective if you want decomposing organic matter to be completely out of sight. You may also bury any weedy plants you have pulled up. If buried deep enough, the weed seeds will not have enough energy to emerge to catch the sun light and thus begin photosynthesizing, so they won't resprout.
Take note that the pit or trench is not easy to harvest though, so it is probably best used to enrich an area where you ultimately want to plant trees or vegetables in. This method comes at no cost but requires extra labor for digging which is a good cardio exercise for you.
Fist test
This is a test to check the amount of water in your compost mixture within the bin or pile. The way to perform it is by grabbing a handful of compost -you should wear gloves- pressing it firmly and checking the amount of water dripping. If there are only a few drops and after releasing the pressure from your fist by opening your hand the pressed compost does not crumble, the moisture content is adequate. If there are no drops and when you open your hand the mixture crumbles apart, it does not have enough moisture and needs more water. If there is too much water runs off while pressing the compost it has excess water and dry materials like leaves, grass or straw should be added to absorb the excess moisture.
Final thoughts
Composting is not a cooking recipe, it is very flexible and it allows for you to use your imagination and availability of materials as to what to add to your bin or pile.
Happy composting!